SECURING THE CLOUD
Eliminating the Expanding Threat of Business Account Takeover
To see all that is happening in their environments presents operational hurdles for most companies. For real-time threat detection Vigilant365™ ingests all of the information coming out of Office365, alongside custom built alerting, allowing for 24/7 visibility, even outside the security box for a proactive cloud security solution that closes the gaps while detecting critical threats.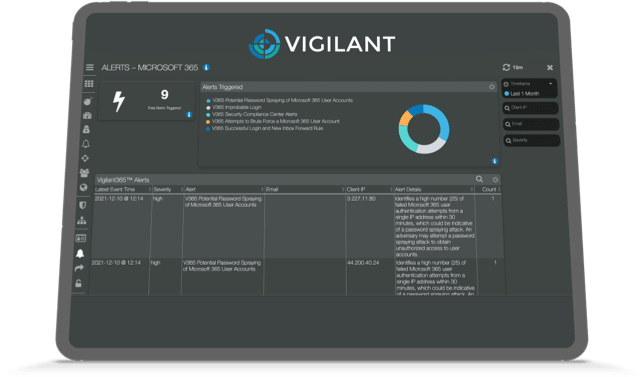 CLOUD WORKLOAD PROTECTION
MANAGED ENDPOINT DETECTION & RESPONSE
There are many benefits to cloud services, both private and public: business agility, ease of use, cost efficiency, dynamic allocation of resources and scope of functionality. However, alongside those advantages comes a far more complicated workflow and therefore, an expanded attack surface and opportunities for blind spots.
The cloud provider is responsible for security of the cloud's physical infrastructure, but the user needs a partner for security inside the cloud: applications, identity management, data and encryption. That is why Vigilant's Managed Endpoint Detection and Response (MEDR) provides one platform to protect all workloads: servers, virtual, multi-cloud and containers.
The most important word in MEDR is "Managed." Vigilant's whole-team security model provides continuous oversite of comprehensive cloud visibility to enable proactive threat hunting and forensic investigation throughout your cloud workloads.
The process is as simple as it is collaborative:
Schedule a security architecture discussion.
Choose the service with the best features for your company.
Integrate the MEDR service into your environments.
Experience protection and Vigilant's Unlimited Cloud Breach Response Policy.
Vigilant provides managed network detection and managed endpoint detection across
providers from on-prem to remote to IoT to cloud. We put humans back in the game.
"The visibility provided by Vigilant365™ helped me save my own O365 account from possible takeover by a foreign entity. I received an alert that there was a suspicious login attempt on my account from someone overseas and Vigilant provided the needed steps to ensure nothing happened."
---
- TECHNOLOGY CLIENT
(For security reasons, Vigilant never reveals the identity of our clients)