The CyberDNA® Command and Control Center never sleeps. It is available to you 24/7/365 and the Vigilant team is always on the watch. Vigilant is constantly collecting, analyzing and presenting the largest collated data lake (individual, industry-wide and international trends), detecting threats in their infancy and vetting those threats with our adaptive intelligence process. Includes automated, artificial and human interpretative skills.
Vigilant's visibility sensors spread throughout your network to unify your security across on-prem, cloud and remote environments. Through the CyberDNA® Command and Control Center, clients can witness, in real-time, the matrix of accumulated intelligence across dozens of control center screens, as full participants.
APPROACH
---
Continuously Monitor
Manage Sensitive Workflow
Access Granular Insights
Unlimited Breach Response
Full-Packet Capture
Advanced Threat Detection
Vulnerability Assessment Reports
Audit Logins
Access to the Largest Data Lake
Supervise BYODs
Assess Vulnerability Posture
Advanced Threat Detection
Two-Way Ticketing
OUTCOMES
---
Collaborative Security
Improved Decision Making
Achieve and Maintain Compliance
Faster Vulnerability Assessment
Eliminate Production Friction
Gain Visibility into Containers
Discover Abandoned Accounts
Accelerate Investigations
CyberDNA® COMMAND AND CONTROL CENTER
An environment designed to optimize Vigilant's organizational and technical attributes and processes.
The Center employs human, AI and information resources to accomplish our mission of detecting, vetting and preventing threats.
COMMAND CENTER
Participate in Command Processes
Vigilant's unique collaborative command service is achieved through the CyberDNA® experience. Detect together, protect together.
Observe Unusual Activity and Act
From bandwidth spikes to remote login attempts, you will observe real-time discrepancies and collaborative solutions.
Customize Detections
Every industry is unique and every company within them is unique. The CyberDNA® Command Center guides and provides tailored sensoring to specific needs.
"Red Phone" Access
CyberDNA® provides tailored two-way ticketing and direct access to our hunt team provides "red phone" access to Vigilant's full-team service and deployment.
Spending Time on The Right Stuff
The CyberDNA® Command Center provides maximum, constant visibility as it simultaneously protects each client's time and focus by vetting and eliminating false-positive alerts – setting our sights on the right priorities.
Evolving into Super-CyberDNA
Collaborative command means that CyberDNA® is constantly iterating based upon clients' expressed needs. So you can expect constantly updated features.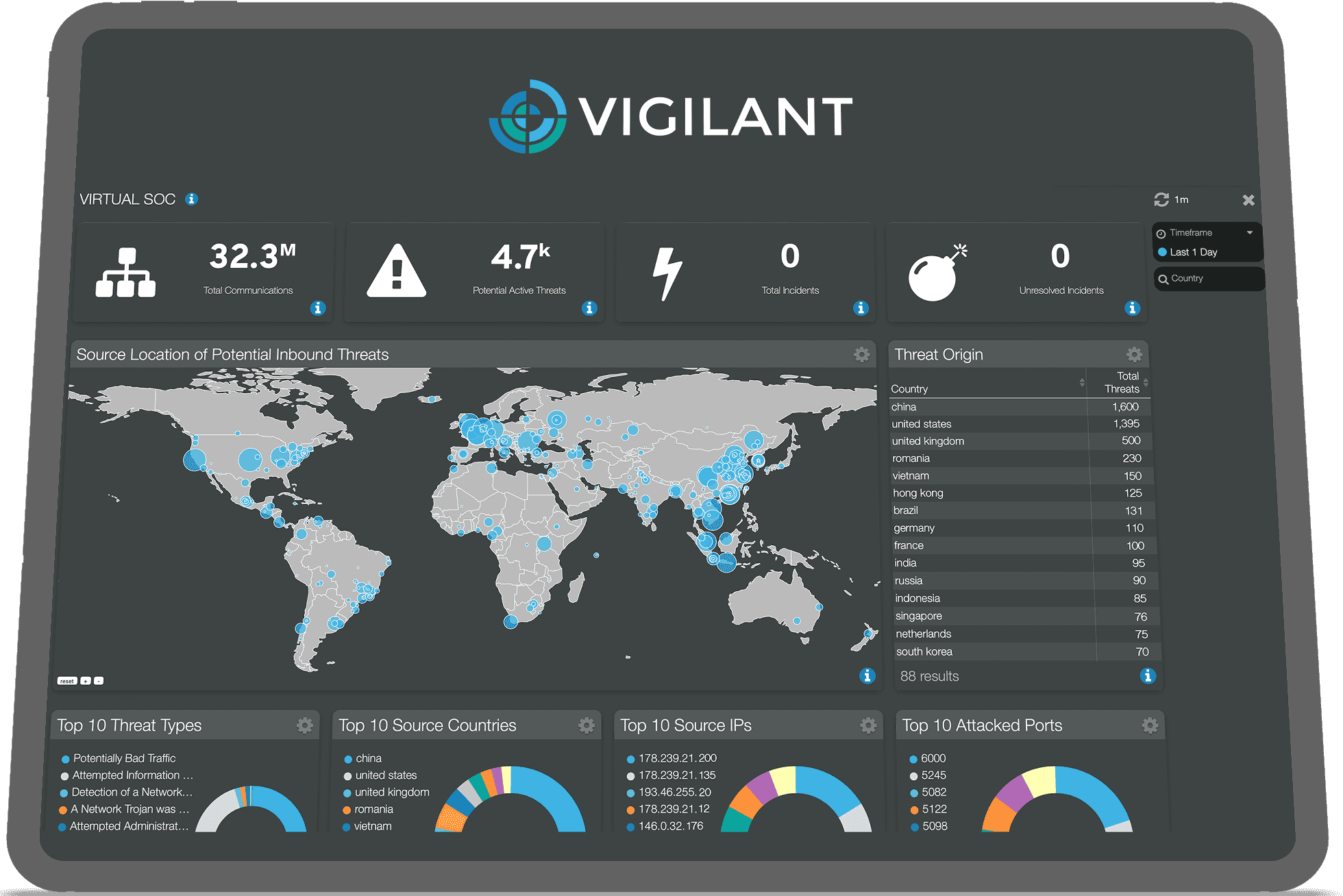 CONTROL CENTER
Fully Capture Your Data
Beyond log files that can be corrupted in process, CyberDNA® reports raw data as well as data analysis to represent the lifecycle of threat activity.
Global Oversight
With a click your team will observe global activity on and against your system and not junk-data. Vigilant is constantly reporting based on contemporary trends.
Bandwidth Management
From system deficiencies to streaming media overuse, CyberDNA® provides the what, when, where and how that inform the necessary remedy.
Observe Data Transmission
From attachments, to financial files and client data around or beyond your environment, CyberDNA® provides visibility and containment.
Preventative Security
In addition to the constant visibility, CyberDNA® also regularly reports on patterns and trends to provide and ensure preventative health throughout the entire system.
Maximize Firewalls
Atomic indicators reveal when firewall changes need to be made, from IP restriction to Geo-Blocking.
HOW IT WORKS
Securing On-Prem, Cloud and Remote Environments
---